The German Party Political Compass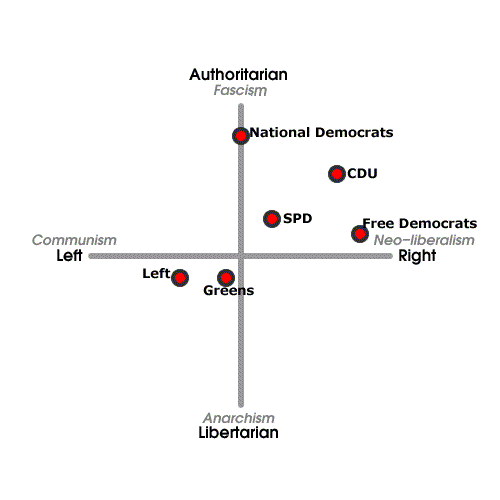 The rightward drift of the Social Democrats — not as ideologically dramatic as the British Labour Party's — nevertheless has contributed to the establishment of the Left Party. This new party remains something of an unknown quantity, given the diversity of the left backgrounds of its key spokespeople and some uncharacteristically anti- immigrant statements by high- profile SPD defector, Oskar Lafontaine. The narrowing ideological gap between the SPD and the CDU is reflected by the open discussion within some SPD circles of a coalition with the CDU - an unthinkable proposition so far before any past election.
This time around, the Greens look less like a serious political party and more like a feel-good movement. The Free Democrats, like the US Libertarian Party, advocate certain social freedoms while remaining focused on the freedom that actually matters most to them - the free market.
In keeping with the UK's British National Party, the real extremism of the National Democrats does not lie in its economics, but rather in its social attitudes.
---
Die Rechtsdrift der Sozialdemokraten, obgleich ideologisch nicht so dramatisch wie die der Britischen Labour Party, hat gleichwohl zum Entstehen der Linkspartei beigetragen. Angesichts der Verschiedenartigkeit des linken Hintergrunds ihrer Wortführer und angesichts einiger untypischer Äuß erungen gegen Einwanderer des SPD-Abtrünnigen Oskar Lafontaine bleibt diese neue Partei eine einigermaßen unbekannte Größe. Der sich immer mehr verringernde ideologische Unterschied zwischen der SPD und der CDU spiegelt sich in der offenen Diskussion um eine große Koalition innerhalb einiger Kreise der SPD wieder - eine bis dato vor einer Bundestagswahl undenkbare Wahlkampfperspektive.
Während dessen ähneln die Grünen weniger einer ernsthaften politischen Partei als vielmehr einem sich behaglich fühlenden Regierungsapparat.
Die Freien Demokraten, ähnlich wie die amerikanische Libertarian Party, befürworten zwar durchaus gewisse gesellschaftliche Freiheiten, bleiben aber auf diejenige Freiheit fokussiert, die ihnen tatsächlich am meisten bedeutet: die freie Marktwirtschaft.
Wie bei der britischen National Party liegt der faktische Extremismus der NPD nicht in ihren ökonomischen, sondern eher in ihren gesellschaftlichen Anschauungen.