German General Election 2013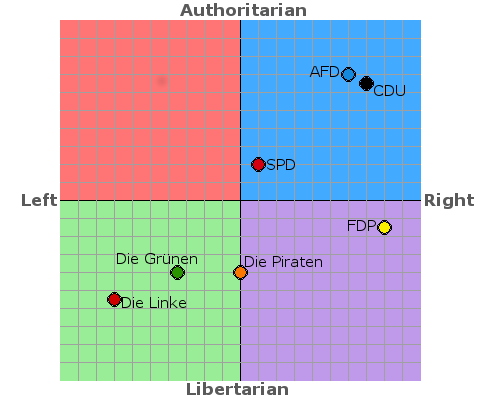 The Political Compass was established in 2001 as a tool applicable to all democracies, and a way of better making sense of the changing political landscape. Our test itself is not nation-specific, nor driven by current hot issues. Rather, it presents a profile of an individual political personality. Our work has been widely reviewed in the international media, and included in many courses and publications for schools and universities. We're grateful for the enthusiastic response that we've always enjoyed from Germany, both in media coverage over the years, and also in the volume of correspondence that we receive. Our 2005 German electoral chart can still be viewed here.
While we welcome the University of Konstanz's late entry into the field of two-dimensional political charts, an acknowledgment of our long-standing work would have been nice. We do take issue, though, with the identifications that they attach to their social dimension. 'Progressive' and 'Conservative' popularly describe economic as well as social attitudes, blurring the distinctions that the two dimensions are supposed to achieve. We prefer our 'authoritarian' and 'libertarian' social labels. Perhaps the University wished to distance itself from our model, or historic sensitivities might have made them uneasy about identifying authoritarian tendencies in any present day German party. But take, for example, the difference between the arch conservative Theodor Duesterberg and Adolph Hitler. The Konstanz University labels would simply leave Hitler being more 'conservative' than Duesterberg, who, in fact, was closer to the religion-and-tradition conservative character that they describe. Duesterberg can more accurately be described by The Political Compass as a little less authoritarian than Hitler. With the emergence of quasi-fascist parties in some contemporary democracies, the point is an important one.
It is clear to us that social democratic parties in almost all democracies have either reluctantly or enthusiastically adopted the neo-liberal economic agenda in a rightward drift. The ideological divide between the mainstream parties has significantly narrowed — and sometimes even reversed. In Denmark, for example, a social democratic government in coalition with the further left Peoples' Socialist Party has reduced pensions and given tax breaks to the wealthiest five percent. The "Social Democratic" Danish Prime Minister also voiced immediate support for the US intention to attack Syria.
Germany's Social Democrats can similarly no longer be seen as significantly left wing, except in their own self-concept and among their most uncritical traditional supporters. The Greens have also displayed quite conservative economic tendencies. The Left Party, seen as extreme in some quarters, occupies similar ground in many ways to the Brandt-led Social Democrats, reflecting how far the fulcrum has shifted.
The FDP continues to champion the full-throttle free market, while maintaining a more liberal social stance than the CDU.
As always, our projections are based on policy statements, speeches and voting records. The Pirates, contrary to popular opinion, appear to us to be economically centrist. The AFD, which looks strikingly similar to the UK Independence Party, is still too new to determine all its policy positions. The extent to which it might poach those CDU voters with more nationalistic inclinations remains to be seen.
---
Der politische Kompass wurde 2001 als ein Werkzeug eingeführt, das auf alle Demokratien anwendbar ist, und ein Art des besseren Verständnisses einer sich verändernden politischen Landschaft. Unser Test selbst ist nicht Nationen spezifisch, noch durch aktuelle heiße Themen bestimmt. Er zeigt eher das politische Profil einer individuellen politischen Person. Unsere Arbeit wurde in den internationalen Medien diskutiert und wurde in viele Kurse und Publikationen für Schulen und Kurse eingebaut. Wir sind dankbar für die enthusiastische Rückmeldung, die uns erfreulicherweise aus Deutschland erreicht hat, sowohl in der Medien Beurteilung über die Jahre, als auch über den Umfang der Korrespondenz, die wir erhalten. Unser Wahlschaubild der Bundestagswahl 2005 kann immer noch hier betrachtet werden.
Während wir den kürzlichen Eintritt der Universität Konstanz in das Feld zweidimensionaler politischer Schaubilder begrüßen, wäre es schön gewesen, unsere langjährige Arbeit anzuerkennen.
Wir behaupten hingegen, dass mit den Identifikationen, die sie an ihre soziale Dimension binden, "progressiv" und "konservativ" allgemein wirtschaftliche und soziale Haltungen beschreiben, die die Unterscheidungen verwischen, die die beiden Dimensionen mutmaßlich erreichen. Wir bevorzugen unsere sozialen Kennzeichen "autotritär" und "libertär". Vielleicht wollte sich die Universität von unserem Modell distanzieren, oder historische Empfindlichkeiten ließ sie unwohl dabei fühlen, jegliche autoritäre Tendenz in jeglicher heutigen deutschen Partei zu identifizieren. Aber nehmen sie als Beispiel den Unterschied zwischen dem erz-konservativen Theodor Düsterberg und Adolph Hitler. Die Kennzeichen der Konstanzer Universität ließen Hitler einfach "konservativer" sein als Düsterberg, der in der Tat näher dem religions–und-traditions konservativen Charakter war, als sie es beschreibt. Düsterberg kann genauer durch den Politischen Kompass beschrieben werden, als etwas weniger autoritär als Hitler. Mit den Aufkommen derquasi-faschistischen Parteien ist die ein bedeutsamer Punkt.
Es ist uns klar, dass die sozial-demokratischen Parteien in fast allen Demokratien entweder zurückhaltend oder enthusiastisch die neoliberale Wirtschaftsagenda in einem Rechtsrutsch übernommen haben… Der ideologische Unterschied zwischen den Mainstream-Parteien hat sich sgnifikant genähert — und manchmal sogar umgedreht. In Dänemark zum Beispiel hat eine Koalition aus sozialdemokratischer Regierung in Koalition mit der noch linkeren "Volks"-Sozialistenpartei die Renten gekürzt und Steuererleichterungen den wohlhabendsten fünf Prozent gegeben. Der "sozialdemokratische" dänische Premierminister hat ebenso zu einer sofortigen Unterstützung der Ansicht der USA aufgerufen, Syrien zu attakieren.
Deutschlands Sozialdemokraten können ebenso nicht länger als signifikant links angesehen werden, außer in ihrer Selbstwahrnehmung und unter ihren sehr unkritischen traditionellen Unterstützern. Die Grünen haben ebenso ziemlich konservative ökonomische Tendenzen gezeigt. "Die Linken", in manchen Bereichen als extrem angesehen, besetzt in vielfacher Hinsicht ähnlichen Boden wie die Brandt-geführten Sozialdemokraten, was zeigt, wie sehr sich die Achse verändert hat. Die FDP bleibt Champion des Vollgas frein Marktes, während sie eine mehr liberale soziale Einstellung beibehält als die CDU.
Wie immer basieren unsere Ansätze auf politischen Statements, Reden und Wahlen. Die Piraten erscheinen uns wirtschaftlich gemäßigt, im Gegensatz zur populären Meinung. Die AfD, die auffalled ähnlich der britischen Independence Party erscheint, ist noch zu neu, um alle ihre politischen Positionen zu bestimmen. Es bleibt abzuwarten, in welchem Ausmaß sie bei jenen CDU-Wählern mit größeren nationalistischen Haltungen wildert.
Our grateful thanks to Martin Kaiser for the translation.