New Zealand General Election 2008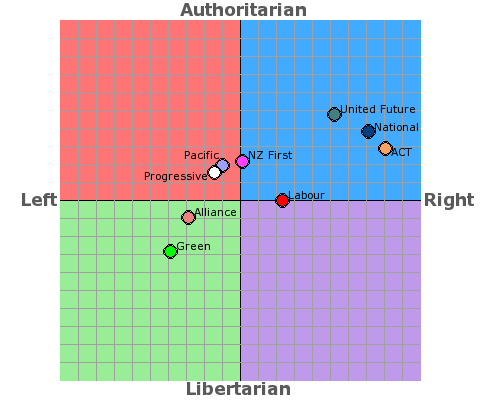 Labour — or at least the present Labour leadership — has continued to reclaim something of its pre-Rogernomics approach on matters such as health, with renationalisation of the railways and the establishment of the Kiwi Bank significant returns to traditional party values. National combines the Friedmanite enthusiasms of its leader — and most of its members — with decidedly conservative social policies.
The Maori Party's policies are less defined than the others in several areas, posing us with some dilemmas.
ACT's hardline law and order approach reflects its willingness for the strong arm of the state to assert itself in certain non-monetary matters. United Future looks to us like National-Lite, while the Progressives, on matters like cannabis legalisation, display an authoritarian tendency that contrasts with the more consistently liberal social policies.