New Zealand General Election 2011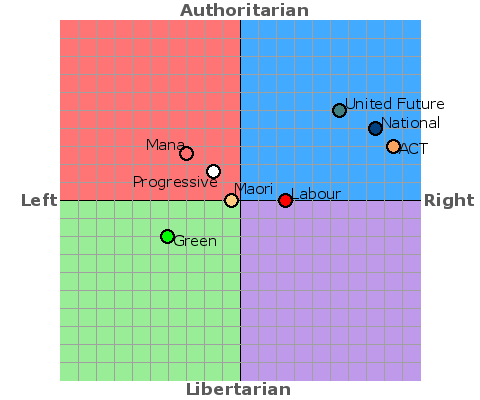 Our chart depicts the main parties in the New Zealand general election.
Given the Kiwi tendency to confuse critical thinking with the national no-no of "negative thinking", National's up-beat election posters probably hit the popular mood. While short on substance, the slogan Building a Brighter Future invariably accompanied by a shot of the ever-smiling John Key, should help deliver a second term. This time around, harsher cutbacks and a more full- throttle neoliberal agenda can be expected. By contrast, Labour's Phil Goff, widely seen as decent but unexciting, features less prominently than local candidates. Both parties count on a certain level of voter amnesia. While in Europe and the US there's an unprecedented public backlash against banks and investment houses, New Zealanders are poised to re-elect a Prime Minister who made his career fortune as an executive with the scandal-ridden firm of Merrill Lynch. Labour similarly counts on short-term memory with its No Asset Sales slogan. It was under Labour in the 1980s that asset sales and neo-liberalism were introduced to New Zealand. The Finance Minister responsible has since found an appropriate home in the far right ACT party.
Market forces, having won the economic and political battles in New Zealand, increasingly dominate the cultural front as well. Business reports are now as frequent as sports and weather reports. Even the Green Party, to the consternation of some of its supporters, is this time outfitting its co-leaders in conservative attire more appropriate to real estate salespeople. The apparently business-friendly Green s nevertheless offer a significantly left alternative to Labour. The two parties might gain sufficient support to form a coalition government, with the participation of the Māori Party.
Both main parties have made awkward attempts to tap into the recent World Cup fever. The All Blacks' victory in this rugby-obsessed nation will inevitably — if inexplicably — give the government an electoral boost.
With the ideological gap between the main parties narrowing, issues of identity politics have largely replaced the great clashes of vision that older New Zealanders remember. Politicians of conviction seem increasingly outnumbered by politicians of mere career.